Fiber Tracking: Description
Tractography, or fiber tracking, is a process which runs at the end of the DTI processing pipeline, in the DTI Track module of MedINRIA [2]. Among the numerous available methods for tracking fibers, we chose a relatively fast and easy to implement one [6] and show how the tracking can be improved by our variational estimation combined with regularization. Criteria for stopping the tracking are: a threshold on FA (if FA is too low, the tracking is stopped) and on the curvature (to forbid unlikely fibers having a high curvature). Prior to the tracking, tensor fields are resampled to obtain isotropic voxels: in general, the out-plane resolution is very low (e.g., the brain dataset here) and interpolating the tensors improves the regularity of the fibers. Resampling is interpreted as a weighted mean with trilinear coefficients. Such a mean is computed in the logarithmic domain and then mapped back to the tensor space with the matrix exponential:

where wi are classical trilinear weights. We showed in [7] that such an interpolation has good practical properties in the context of DT-MRI, compared to a Euclidean interpolation.
Screenshots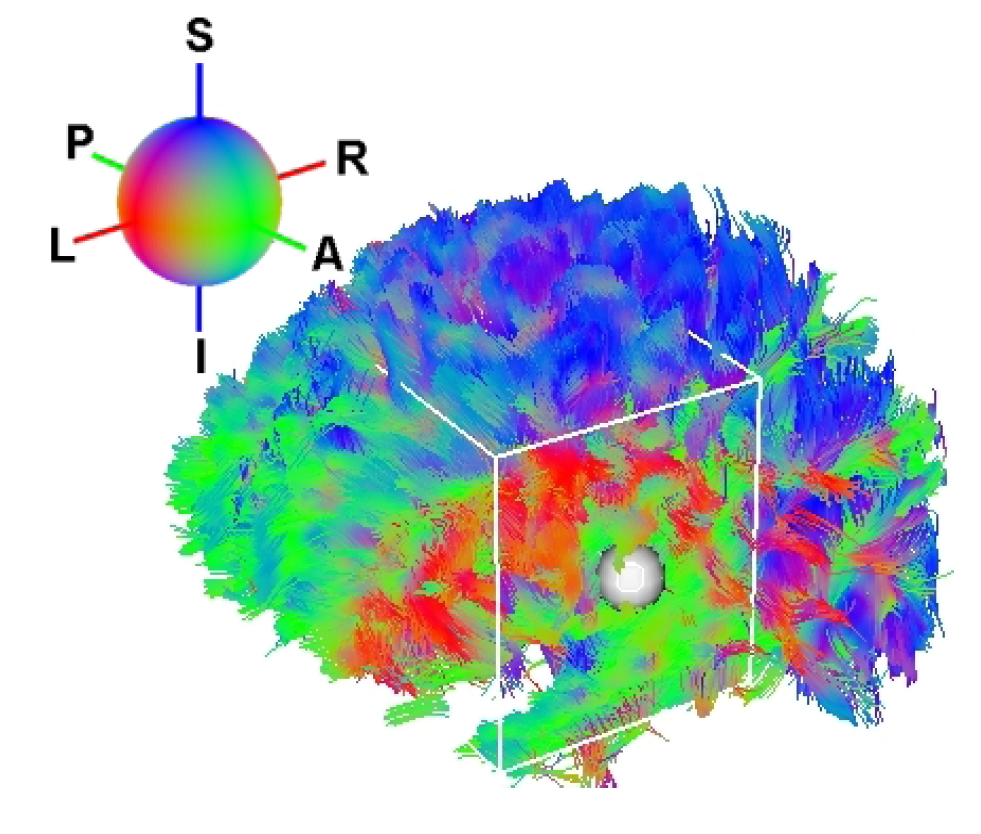 On this figure is shown an example of a set of fiber tracts reconstructed in MedINRIA. Fibers are represented as colorized lines in the 3D view. The color characterize the direction of the fiber (see the color sphere).
References