About MedINRIA...
Copyright INRIA 2008 - ASCLEPIOS Research Team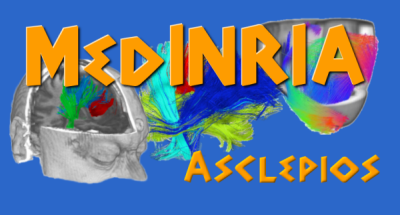 Current Built Version : v1.8.0.
Last Update: September, 5th, 2008.

Scientific Direction and Project Management
- Olivier Clatz
- Pierre Fillard
- Maxime Sermesant

Developers
- Aurelie Canale
- Rachid Deriche
- Maxime Descoteaux
- Florence Dru
- Pierre Fillard
- Nicolas Toussaint
- Jean-Christophe Souplet
- Tom Vercauteren
- Julien Wintz

Website Designers
- Jean-Christophe Souplet
- Nicolas Toussaint
- Maxime Sermesant

External Collaborators
- Denis Ducreux
- Sebastien Novellas
- Christine Lebrun
Note
: The current release of MedINRIA is a beta version and should not be considered otherwise. Please report any problem with the software to the
developers
.
The Registration module has been developed at part of the Europeen project IST-2004-027749 Health-e-Child, its Diffeomorphic Demons algorithm was developped by Tom Vercauteren and funded by :
Mauna Kea Technologies
(MKT).
---
Redistribution and use in source and binary forms, with or without modification, is NOT ALLOWED without the previous authorization of the developers. The origin of this software must not be misrepresented; you must not claim that you wrote the original software. If you use this software for any purpose (e.g. publication), a reference to the program and the authors must be included.
---
THIS SOFTWARE IS PROVIDED BY THE COPYRIGHT HOLDER AND CONTRIBUTORS "AS IS" AND ANY EXPRESS OR IMPLIED WARRANTIES, INCLUDING, BUT NOT LIMITED TO, THE IMPLIED WARRANTIES OF MERCHANTABILITY AND FITNESS FOR A PARTICULAR PURPOSE ARE DISCLAIMED. IN NO EVENT SHALL THE AUTHORS OR CONTRIBUTORS BE LIABLE FOR ANY DIRECT, INDIRECT, INCIDENTAL, SPECIAL, EXEMPLARY, OR CONSEQUENTIAL DAMAGES (INCLUDING, BUT NOT LIMITED TO, PROCUREMENT OF SUBSTITUTE GOODS OR SERVICES; LOSS OF USE, DATA, OR PROFITS; OR BUSINESS INTERRUPTION) HOWEVER CAUSED AND ON ANY THEORY OF LIABILITY, WHETHER IN CONTRACT, STRICT LIABILITY, OR TORT (INCLUDING NEGLIGENCE OR OTHERWISE) ARISING IN ANY WAY OUT OF THE USE OF THIS SOFTWARE, EVEN IF ADVISED OF THE POSSIBILITY OF SUCH DAMAGE.