Research interests
I am currently interested in
Functional Electrical Stimulation,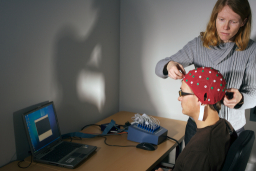 This leads me to study :
Inverse problems...
Estimating information from partial measurements, while using as much a priori information as available.
Estimating Deformations of Stationary Processes
Source Regularization for the MEEG inverse problem
Signal processing with wavelets...
Using time-frequency or space-scale representations to uncover hidden information from signals or images.
Solving Shape from Texture in monocular images
Single-trial biosignal analysis with Consensus Matching Pursuit
Numerical simulation...
Modeling relevant physical phenomena and simulating them with as much accuracy as possible, with an emphasis on model calibration.
The Symmetric Boundary Element Method for electrostatics, and the Fast Multipole Method
Conductivity sensitivity analysis and calibration
An opensource library of forward and inverse problems for bioelectromagnetism: OpenMEEG
&nbsp