Let

be a planar implicit curve defined by a polynomial equation

, where
. We are going to describe an algorithm, which outputs a graph of points in the plane, \ isotopic to the curve

, and with the following properties:
the points (or vertices of the graph) are on the curve ,
they are connected by segments, which intersect only at these end-points.
The method which is described here belongs to the family of sweeping algorithms, also related to Morse functions and critical values. It proceeds as follows:
First, we choose a direction, and consider a virtual line orthogonal to this direction, sweeping the plane;
We detect at which critical position, the topology of the intersection of the line and the curve changes and compute the corresponding intersection points;
We compute the intersection points for sample lines in between these critical positions.
We connect the computed points by segments, in order to get a graph isotopic to .
Let us assume that the sweeping direction that we have choosen is the

-axis. Then the topology of

(where
is the line orthogonal to the

-axis through the point

) changes, when

contains multiple points, that is when
has a real solution.
The corresponding

-coordinates of these points satisfies

. We solve this equation. Let

be the real roots of

. For each

, we \ compute the corresponding

such that

. At this point, we also check that the curve is in generic position, that is, there is at most one multiple solution of

.
Once these points are computed, we compute intermediate (rational) points

, such that

and the corresponding

such that

.
All these points are collected and sorted by lexicographic order such that

. The subset of points, corresponding to two consecutive

-coordinates are connected, according to their

-coordinates, in the order described below: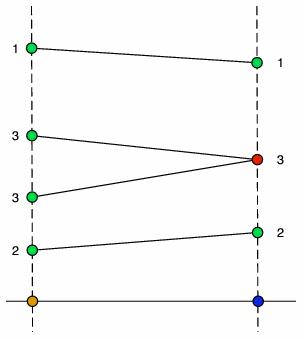 It computes a graph of points g (of type topology::point_graph<C>) which is isotopic to the curve , defined by the polynomial p. The coefficients of the points in the graph are of type C. The polynomial P is converted to a polynomial with rational coefficients, if needed.
C, which is the type of coefficients of the points in the result,
SLV, which is the type of univariate solver to be used. The default value for SLV is Aberth<RR>.
This class provides following definition and static function:
typedef u_solution_t; the type of the solutions which are computed by the solver,
static Seq<u_solution_t> u_solve( const UPOL& p); which specifies the univariate solver, used in the algorithm.





#include <cstdio>




#include <synaps/arithm/gmp.h>




#include <synaps/topology/TopSweep2d.h>





int

 main(

int

 argc, 

char

** argv) 
{
  

const

 

char

 * exemples[] = { 
    

"33481-68244*x+47684*y+32162*x^2-54873*x*y+86*x^3*y+2566*x^3+3974*y^4*x+1354*x^2*y^3+13464*y^3-14150*y^4+4622*y^5+37086*y^2*x+7078*x^2*y-6980*y^3*x+204*x^2*y^2+34*x^4+267*x^3*y^2+x^5-y^7-21*x*y^5+25*x^4*y-30*y^6-37557*y^2"

,
    

"x^6+y^2*x^4-y^4*x^2-2*x^4-y^6+2*y^4+x^2-y^2+x*y"


  };
  

for

 ( 

int

 i = 0; i < 2; i ++ )
    {
      std::cout << i << std::endl;
      MPol<QQ> p(exemples[i], Variables(

"x y"

));
      topology::point_graph<double> g;
      topology::assign(g, p, TopSweep2d<double>());
      

char

 file[200];
      sprintf(file,

"tmp-%i.off"

,i);
      geomview::ostream vw(file);
      vw<<g;
      vw.view();
    };
  

return

 0;
  
}

Here is the graph,which is computed: