User's Manual: Broadway Manager
---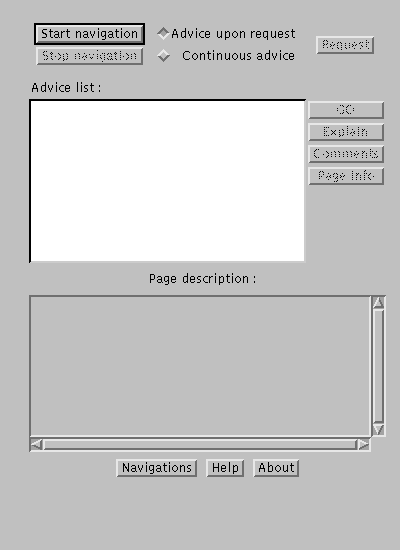 Navigation control
Changing the advice computation
When advice have been found
Other buttons


Navigation Control
---
You can control your navigation with the following two buttons:
Start navigation : the navigation is started, and the toolbar is inserted in each page.
Stop navigation : close the navigation, if your navigation is relevant (must have at least one page evaluated relevant, and must be longer than 3 pages), your navigation is retained and will be reused.
Changing the advice computation mode
---
You are able to select the computation mode with the radio buttons:
Advice upon request : advice are computed each time you click during a navigation on the "Request" button.
Continuous Advice : advice are computed each time you load a page.
NB: advice are computed only after 3 pages in the current navigation.
When advice have been found
---
When advice have been found, the list is displayed and new buttons are enabled: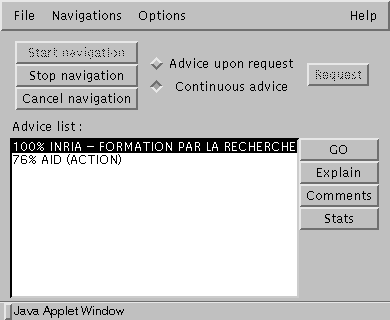 GO : go to the selected page in the list
Explain : not yet implemented
Comments : read annotations on the selected page.
Stats : get info on the selected page
Other buttons
---
Navigations : give the list of your retained navigations
About
Help
---