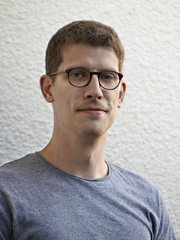 Thomas Leimkühler
Postdoc
thomas.leimkuhler[at]inria.fr
I am a postdoc at Inria Sophia-Antipolis, France, working with
George Drettakis
. I work in the field of computer graphics, with research interests in rendering and artificial intelligence.
News
May 2021
: I will start a research group on image synthesis and machine learning at MPI Saarbrücken (affiliated with the
Computer Graphics department
and the
Visual Computing and AI department
) this fall. Feel free to reach out if you are interested in a PhD position!
Publications
2021

Georgios Kopanas, Julien Philip, Thomas Leimkühler, George Drettakis

Computer Graphics Forum (Proc. EGSR 2021)

Siddhant Prakash, Thomas Leimkühler, Simon Rodriguez, George Drettakis

Proc. ACM i3D, 2021
2020

Simon Rodriguez, Thomas Leimkühler, Siddhant Prakash, Chris Wyman, Peter Shirley, George Drettakis

ACM Transactions on Graphics (Proc. SIGGRAPH Asia 2020)
2019

Thomas Leimkühler

PhD Thesis, Saarland University, 2019

Thomas Leimkühler, Gurprit Singh, Karol Myszkowski, Hans-Peter Seidel, Tobias Ritschel

ACM Transactions on Graphics (Proc. SIGGRAPH Asia 2019)

Anton Kaplanyan, Anton Sochenov, Thomas Leimkühler, Mikhail Okunev, Todd Goodall, Gizem Rufo

ACM Transactions on Graphics (Proc. SIGGRAPH Asia 2019)
2018

Thomas Leimkühler, Hans-Peter Seidel, Tobias Ritschel

ACM Transactions on Graphics (Proc. SIGGRAPH 2018)

Thomas Leimkühler, Petr Kellnhofer, Tobias Ritschel, Karol Myszkowski, Hans-Peter Seidel

IEEE Transactions on Visualization and Computer Graphics, 2018

Thomas Leimkühler, Gurprit Singh, Karol Myszkowski, Hans-Peter Seidel, Tobias Ritschel

arXiv 1806.06710, 2018
2015 - 2017

Thomas Leimkühler, Hans-Peter Seidel, Tobias Ritschel

Computer Graphics Forum (Proc. EGSR 2017)

Best Student Paper Award

Thomas Leimkühler, Petr Kellnhofer, Tobias Ritschel, Karol Myszkowski, Hans-Peter Seidel

Proc. Graphics Interface 2016

Michael A. J. Sweeney Award: Best Student Paper

Petr Kellnhofer, Thomas Leimkühler, Tobias Ritschel, Karol Myszkowski, Hans-Peter Seidel

Proc. ACM Symposium on Applied Perception 2015

Best Student Presentation Award