Biography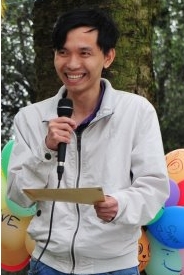 Duc Phu Chau is a R&D expert engineer at
STARS team
,
INRIA Sophia Antipolis
, France. He is also invited lecturer of University of Nice Sophia Antipolis, France and lecturer of Technology Department of
Phu Xuan Private University
in Hue city, Vietnam and .
In 2008, he obtained his Master double-degrees with specialization in "Artificial Intelligence and Multimedia": one from
The University of La Rochelle
in France and one from
The Francophone Institute for Computer Science
(IFI) in Vietnam.
From 2009 to 2015, he has conducted research on adapting object tracking to cope with various video scene contexts. In 2012, he obtained his PhD degree from INRIA Sophia Antipolis, France under the supervisions of
Monique Thonnat
and
François Brémond
.
He now focuses his research on the robust and online learning-based methods for tracking objects in several hours and days.
Duc Phu Chau is the reviewer of several international scientific journals:
Pattern Recognition
(Elsevier),
Computer Vision and Image Understanding
(Elsevier),
Image Communication
(Elsevier),
Sensing and Imaging
(Springer),
IET Computer Vision
,
PLOS
,
Sensors
; and conferences:
BMVC 2008
,
Panorama 2014 workshop
(@VISAPP 14), 
PETS 2014 workshop
(@AVSS 14),
IEEE WACV 2015
.
He is also a program committee member of the special session on
Video Analytics
, jointly organized with
Internatinal conference on Cognitive Computing and Information Processing
(CCIP) 2015 in Noida, India.
Since July 2015, he joins
ALTEN
, an European leader in engineering and technology consulting. He works now in
Amadeus
Sophia Antipolis, France as a software consultant engineer.


Activity News
06 - 09/07/2015:Attend and present paper at ICVS 2015 conference
30/06/2015: Paper accepted in IEEE PETS workshop 2015
25/04/2015: Paper accepted in Springer conference ICVS 2015
Feb - June 2014

: Give course on

Database

Administration and

Programming for students of University of Nice - Sophia Antipolis, France.

24 - 26/03/2014: Attend and present paper at IEEE WACV 2014 conference in Colorado, USA.
13/02/2014: Article accepted in Journal of Image and Vision Computing (IMAVIS),  Elsevier publisher, 2014.
31/01/2014: Paper accepted in IEEE WACV 2014 conference in Colorado, USA.

28/10/2013: Paper accepted in VISAPP 2014 for an oral presentation of 30 minutes.
Sep - Oct 2013: Give course on Logical Models for Data for students of University of Nice - Sophia Antipolis, France.
 27 - 30/8/2013: Attend and present paper at the IEEE AVSS 2013 conference in Krakov, Poland.
 16 - 18/7/2013: Attend and present paper at the ICVS 2013 conference in St. Petersburg, Russia.
 29/04/2013: Give talk at Neovision company, Prague, Czech.
 19/04/2013: Give talk at Honeywell research laboratory, Prague Czech.
 17/04/2013: Give talk at Institute of Information Theory and Automation (UTIA), Prague, Czech.
 09/04/2013: Give talk at Center for Machine Perception (CMP) of Czech Technical University in Prague, Czech.
 01/03 - 30/4/2013: Secondment at Neovision company, Prague, Czech