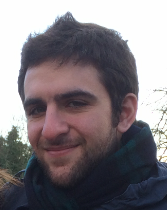 Welcome to my personal webpage. My name is Dimitrios Letsios and I am, currently, a teaching and research assistant in the Combinatorics, Optimization and Algorithms for Telecommunications group at the University of Nice - Sophia Antipolis. My research interests lie on algorithms. I am mainly interested in algorithms for problems taking into account the energy consumption and the data transmission costs of computing systems.
Past Positions:
Postdoctoral Researcher, Technical University of Munich, Jun 2014-Jul 2015
Teaching and Research Assistant, University Pierre and Marie Curie, Sep 2013-May 2014.
Visiting Researcher, University of Pittsburgh, Nov 2010-Dec 2010.
Studies:
Ph.D. in Computer Science, University of Evry, Feb 2010-Sep 2013.
M.Sc. in Computer Science, Athens University of Economics and Business, Oct 2008-Feb 2010.
B.Sc. in Informatics, Athens University of Economics and Business, Sep 2004-Sep 2008.