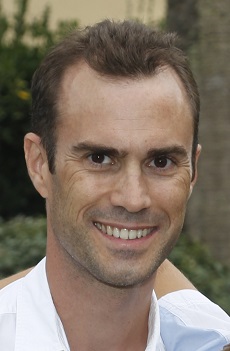 Address

INRIA - EPI DIANA
2004 route des lucioles - BP 93
06902 Sophia Antipolis CEDEX
FRANCE

E-mail

Phone

+33 4 92 38 78 15
Address

INRIA - EPI DIANA
2004 route des lucioles - BP 93
06902 Sophia Antipolis CEDEX
FRANCE

Phone

+33 4 92 38 78 15

E-mail
June 2016

June 2016

Third edition of the French Mooc on Python I made with Thierry Parmentelat. This Mooc will start September, 26 2016. You can already register here.
Seconde édition du Mooc en français sur Python que j'ai fait avec Thierry Parmentelat. Ce Mooc demarrera le 26 septembre 2016. Vous pouvez déjà vous inscrire sur ce site.
Si vous êtes intéressés par des formations Python directement dans votre entreprise, n'hésitez pas à me contacter.

February 2016

February 2016

September 2015

We are closing the second session of our MOOC on Python with close to 10,000 registered students. We are reaching 20,000 students on the two editions of our MOOC.

August 2015

Want to know your exposition to electromagnetic radiations? Register as a beta tester for the ElectroSmart project.

Always opened
Mobile Systems

Impact of smartphones on the Internet
Power management
Security and Privacy

Social networks

Information propagation
Influence
Security and Privacy

Internet Architectures

Information Centric Architecture
User Centric Architecture
Security and Privacy

Content Distribution

Peer-to-Peer Networks
Security and Privacy
Current

Graduated

Ashwin Rao. Graduated in December 2013. Thesis. Now postdoc at University of Helsinki with Sasu Tarkoma.
Stevens Le Blond. Graduated in April 2011, now research scientist at MPI-SWS.
Editorial board

Elsevier Computer Networks (2012)

TPC Chair

ICCCN'2009 P2P track (co-chair with Yi Cui)

TPC

ACM IMC 2016, ACM CoNEXT 2015, ACM IMC 2014, IEEE TMA 2013, IEEE P2P 2012, IEEE HotPOST 2012, Algotel 2012, Usenix IPTPS 2009, ACM CoNEXT 2008, P2P-TV Workshop 2007, ACM Sigcomm 2007 PC heavy, ACM Sigcomm 2006 PC light, ACM Sigcomm 2005 shadow PC.

Reviewer

Journals: IEEE/ACM Transactions on Networking, IEEE/ACM Transactions on Computers, IEEE Network, Computer Communications, ACM CCR.

Conferences: IEEE Infocom, ACM Sigmetrics.
MOOC
2014
Professional training
2011 to 2014

Professional training on Introduction to the Python Programming Language
Si vous êtes intéressés par des formations Python (français ou anglais) directement dans votre entreprise, n'hésitez pas à me contacter.
Academic course
Note: My course material is available in the publications section.

2012, 2013, 2014, 2015

Course on Scientific Communication (master 1 International, UNSA, F)

2014, 2015

Course on Peer-to-Peer Applications : From BitTorrent to Privacy (master Ubinet, UNSA, F)

2010, 2011, 2012, 2013

Course on Peer-to-Peer Applications : From BitTorrent to Privacy (master Ubinet, UNSA, F)
Course on Peer-to-Peer Applications : From BitTorrent to Privacy (master RTM, IUP Avignon, F)

2009

Course on Peer-to-Peer file replication (master IFI, UNSA, F)
Course on Peer-to-Peer file replication (master TSM, UNSA, F)

2008

Short version of my course on Peer-to-Peer file replication (ETH Zurich, Switzerland)
Course on Peer-to-Peer file replication (master RTM, IUP GMI Avignon, F)
Course on Peer-to-Peer file replication (master RSD, UNSA, F)
Course on Peer-to-Peer file replication (master TIM, UNSA, F)
Course and laboratory sessions on TCP/IP networks (IUT GTR, F)

2007

Course on Peer-to-Peer file replication (master RSD, UNSA, F)
Course on Peer-to-Peer file replication (master TIM, UNSA, F)
Laboratory sessions on C system programming on Unix(IUT GTR, F)

2006

Course on Peer-to-Peer file replication (master RSD, UNSA, F)
Course and laboratory sessions on TCP/IP networks (IUT GTR, F)
Laboratory sessions on C system programming on Unix (IUT GTR, F)