The JACK plugin
Introduction
The JACK converter converts a JML file to lemmas allowing proving properties on Java program. Developers add the properties in a Java file as special annotations. These annotations are written using the JML syntax.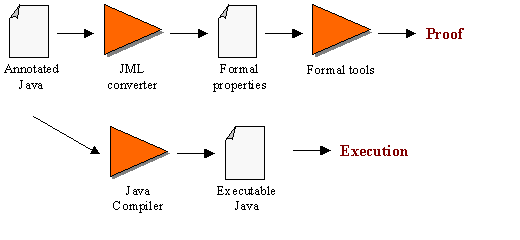 Limitations
This section lists the main limitations of JACK.
Java limitations:
Floating point: JACK does not consider floating point values and computations.
Multithreading: JACK will only allow reasoning on a single thread.
JML limitations:
JACK accepts a subset of the JML language.

Installation Procedure
In this chapter, we describe the different steps necessary to install JACK.
What is necessary
To install JACK, you need:
to have already installed eclipse;
to update eclipse with the plugin;
to download the library files
Using JACK
The integration of JACK in the Eclipse IDE consists in:
A Preference page at workspace level,
A Properties page at project level,
A submenu in the contextual menu at Java source file level that allows to

to generate proof obligations
to edit the proof obligations
to display metrics
to prove the lemmas

Buttons
Some views:
A perspective containing three views:
How it works
From an annotated Java file to lemmas:
the file is parsed and an internal representation is builded;
some other files are recursively loaded and parsed in order to link the loaded classes using the JML path;
all the declarations of the loaded files are linked and the JML clauses are type checked;
the bodies of the main file are linked and the JML clauses are type cheked and translated into formulas;
the proof obligations concerning the static initialization and all constructors and methods are constructed;
a weakest precondition calculus is applied on the calculated proof obligations resulting in lemma;
obvious lemmas are discharged;
the lemmas are saved into a jpo file.