Next:
Regions Of Interest (ROI)
Up:
Fiber Extraction
Previous:
Fiber Extraction
Contents

The Cropping Box
Once fiber tracking has been performed, you will see a cropping box surrounding the set of fibers. This box can be used to extract a specific bundle. Indeed, only the bundles going through the cropping box are displayed (see Fig. 3.11). You can manipulate the cropping box thanks to control points located on the edges of the box. Left-click on one of them to resize it by moving the mouse. When left-clicking on the center point, you can translate the box. Right-clicking somewhere on the box and moving the mouse up or down allows you to enlarge or squeeze it. See Sec. 3.3.2 for other tips on the cropping box manipulation.


The main purpose of this box is to extract a specific bundle. For that you can use the cropping box in a recursive manner : In the Fiber Manager panel (see Fig. 3.14), you will find the ``Tag'' button. Clicking this button fixes the current selection (bundles currently displayed). You can then move the cropping box once more to select more specifically your bundle of interest (see Fig. 3.11, right). You can ``tag'' again the selection, etc...


If you need to recover the entire set of reconstructed fibers, you may use the ``Reset Tagging'' button. It will automatically display all the bundles that go through the cropping box. The cropping box will then act in a normal way.

Figure 3.11: Selection by the cropping box. On the left you see a dense set of reconstructed fibers. The cropping box (in white) allows to select a specific bundle. You can manipulate it (translations and resizing) by left-clicking on its control points at the edge of it and moving the mouse. You can crop the set of fibers recursively by clicking on the ``tag button'' in the Fiber Manager panel.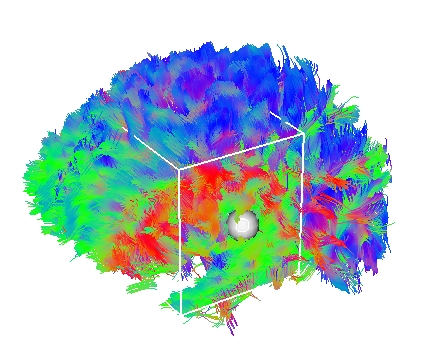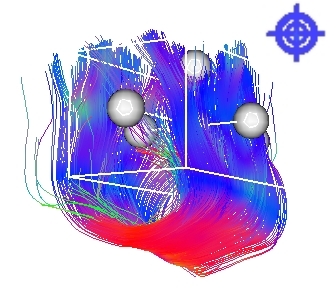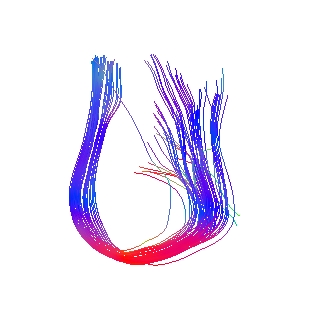 ---





Next: Regions Of Interest (ROI) Up: Fiber Extraction Previous: Fiber Extraction Contents Nicolas Toussaint 2007-06-22